Exterior Walls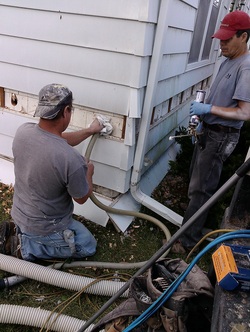 Insulating the exterior walls of a home reduces the thermal transfer of heat through the house. This reduces drafts and outside noise drastically. In most cases we remove a row of siding and drill our holes in the exterior sheathing. We feed a hose into each stud cavity and dense pack cellulose through the wall. The insulation packs around wires, pipes, and electrical boxes limiting the air flow through the wall, providing increased comfort and efficiency.
---
Attic Insulation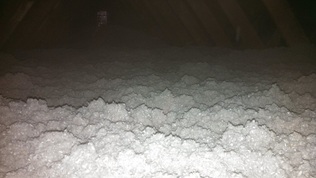 Heat Rises. Inadequate insulation in the attic makes the heating and cooling system work harder than necessary. It can also increase ice dams on your roof. After sealing all of the bypasses, insulation is blown in over the entire attic. More insulation equals a higher R-value. This region requires a minumum of R-49, however we recommend more if possible.
---
Rim Joist and Crawlspace Insulation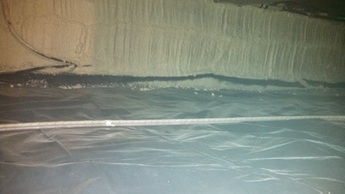 Un-insulated rim joist and crawlspace walls lead to cold air infiltrating your home. This causes noticeably colder floors and uncomfortable drafts on the first floor of your home. Properly installed vapor barrier keeps ground moisture vapor from entering your home and creating health and safety problems. Installing closed cell spray foam on the rim joist and crawlspace walls seals out the air leaks and insulates the area to ENERGY STAR standards. Our closed cell spray foam has some of the lowest occupancy times of one hour compared to 24 hours for most high pressure spray foam products.
---
| | |
| --- | --- |
| As program allies, we can help you determine your eligibility for the ActOnEnergy Incentives. | |